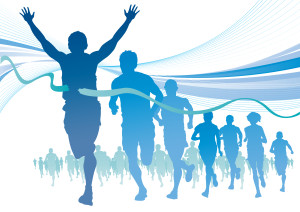 What makes Run To Succeed's race timing services different than the competition? If you are looking to jump on board with one of the fastest growing fundraising activities in the country by hosting a 5K race, then chances are you are going to need a race timer. Booking a race timing service can be one of the biggest challenges for a race director, especially a first time race director.
Despite a recent movement away from timed races to non-timed events, most runners still value accurate timing. When runners invest their valuable time into training, they expect to be rewarded with an accurate race finishing result.
What criteria should you be looking for in a race timing service?
Race timing expense, experience of the timers, geographical location, and the timing hardware and software used are all important factors to consider when making your decision. We at Run To Succeed understand the value of every charitable dollar earned, therefore, we offer competitive pricing at a high level of service. Our timing services are readily available for anything from a 1 mile fun run to a marathon or greater and we are willing to travel to any destination to meet your needs.
Why Run To Succeed is the premier race management and timing company in Southern Illinois, Western Kentucky, and Southeast Missouri.
All of Run To Succeed's race timers are experienced professionals bringing a professional approach to your event. Our timers will respond to your emails and phone calls in a timely manner, show up to your event on time, provide a first class service, and answer any questions you may have. Whether you choose our standard method of timing or state of the art RFID chip timing, your event will be timed using professional race timing hardware and software. All of our trained timers have a background in competitive running and also act as a cheerleader for the participants providing that extra motivation often needed near the race conclusion. 
All of Run To Succeed's race timing services include live results posted during the race on a 40″ LED monitor, an electronic list of finish results (generated by age, gender, category, etc.) provided on site, and an electronic copy of finish results provided afterwards to be distributed as the race director chooses. Run To Succeed's race timing services include setting up a finish line when requested at no additional expense. Our race timing professionals will stay after the race is completed throughout the award presentation. In the rare event that a flaw is detected in the timing results, the timer is available to address the situation. Our race timing services include promoting your event on the Run To Succeed event calendar and we will post your race on the "Running in the USA" event calendar.
More than a timing company.
Run To Succeed offers many other services in addition to or stand alone from our race timing services. Our race management services include course design, course security, development of event budget, race marketing, race bibs, shirt design, medal design, online registration setup, race day check in, same day registration, race photography, and volunteer training.  More details on these features may be found by visiting the Race Management page of our website.
Doesn't matter if you plan to host a 5K, 10K, Half-Marathon, Marathon, or more, Run To Succeed has you covered. Don't just take our word for it. Run in one of our hosted events or speak to someone who has utilized our services in the past. I am confident you will be our next satisfied client. Here is what Maci Hutson with the Hip Hop 5K had to say, "Tim with Run To Succeed was an excellent person to work with. Since this was my first time hosting a 5K, I had a million questions, concerns and random emails that he answered fully and promptly, every single time. I plan on holding next year's event with Run To Succeed again because they were such a great company to work with."
Next time you are in the market for race timing services, consider Run To Succeed's race management and timing services. We are a professional company guaranteed to meet all of your race management and timing needs.