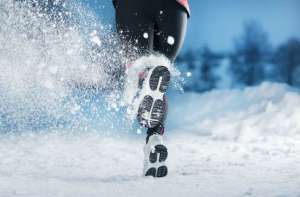 Article contributed by Judy Mick
Runners always seem to lose some of their fitness levels during the winter months. It's human nature to not want to run long or even at all when the weather is cold and/or windy. But, then there's the problem of getting back in shape when the weather turns nicer. And, if you have a spring race planned, this can be a problem. Read on for tips to keep you running through those winter months.
First thing (and something that I do) is to plan a race during those months. I always plan to do a marathon or half-marathon during January or February in Florida. Knowing that this is coming up definitely keeps me motivated to do those long runs when there may be snow in the air. Now, I know that not everyone can plan a winter vacation – but look around. I'm sure that there are long races close to you during that time. This is a great motivator!
If you can't find a race during those colder months, plan something first thing in the Spring. There are always plenty of races in March or April. A marathon or half-marathon then will get you starting on your training during the winter months.
Another way to stay motivated (and I know that this is silly, but it works) is to buy some new winter running gear. Getting something new to wear just makes you want to get out there and show it off. So, if you buy some new tights or a new windproof jacket – you will feel better about getting out there.
Many runners find partners to run with. Having to be accountable to someone can be a great motivator. You don't want to miss running with the group and you don't want to let them down by not showing up.
Running during the cold months is great to get off any excess weight that you may have gained during the holidays. We all have a tendency to eat more during that time – so keeping up with your running program is just what you need to keep in shape.
Yes, it does take some extra motivation to keep running during the colder months. But, if you do, you'll find that when Spring comes – you're already in better shape than those that didn't do anything during those months. And, if you just can't face heading out – you may want to invest in a treadmill. There are days when I really thankful that I can head downstairs when the roads are icy and the winds are blowing!
Eating right during the winter months is also important to keep you fueled.