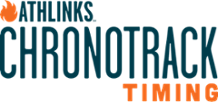 .
RTS Sports (Run To Succeed) proudly provides professional race timing and management services across a five state region including Southern Illinois, Western Kentucky, Southeast Missouri, Western Indiana, Western Tennessee and beyond.
 The company began offering race management and timing services in Southern Illinois.  Since then, we have became Southern Illinois' premier race management and race timing service providing event timing for road races, trail runs, obstacle courses, triathlons, bicycle races, cross country meets, and more.
.
.
Our services have expanded to include the following locations and their surrounding areas:
all of Southern Illinois
St. Louis, Missouri & region
Cape Girardeau, Missouri & region
Louisville, Kentucky & region
Paducah, Kentucky & region
Evansville, Indiana & region
Clarksville, Tennessee & region
Nashville, Tennessee & region
.
We offer two styles of professional race timing (listed below).  In most cases, a non refundable deposit is required to book a race.  It is imperative that you let us know the date of your race early enough to book our race timing services as our calendar does fill up quickly. Generally, we prioritize our services on a "first come first serve basis." Loyal clients are one of the few exceptions to this rule.
What makes us different than the competition? Our races are timed by professionals and not volunteers. We understand the importance and value of volunteers, but we believe your race deserves to be timed by experienced professionals. All of Run To Succeed's race timing services include live results posted during the race, finish results provided without delays, an electronic list and/or printed list of finish results provided on site and an electronic copy of finish results provided afterwards to be distributed as you choose. We now offer an app to add to your timing experience offering registration links, results, course maps and much much more!
Run To Succeed's race timing services include setting up a finish line at no additional expense.  We also offer an inflatable finish line at a minimal additional fee (pictured below), which can be used as a platform for sponsorship banners to be displayed.  Our professional race timing software is very accurate and aids in eliminating mistakes. Your race will be listed on our race calendar with either a link back to your registration page and/or to an attached race flyer. We now offer online race registration for any event at no additional cost to you.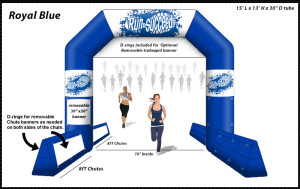 Standard electronic timing method
RTS's race timing and scoring system is an integrated platform for race registration, race timing, and race results.
Electronically timed and scored using professional race timing software.
Live results are available throughout the race and featured on computer kiosks.
Clock and bib timing.
Finish line.
Generated list of finishing runners/walkers/cyclists in order by age, gender, & event.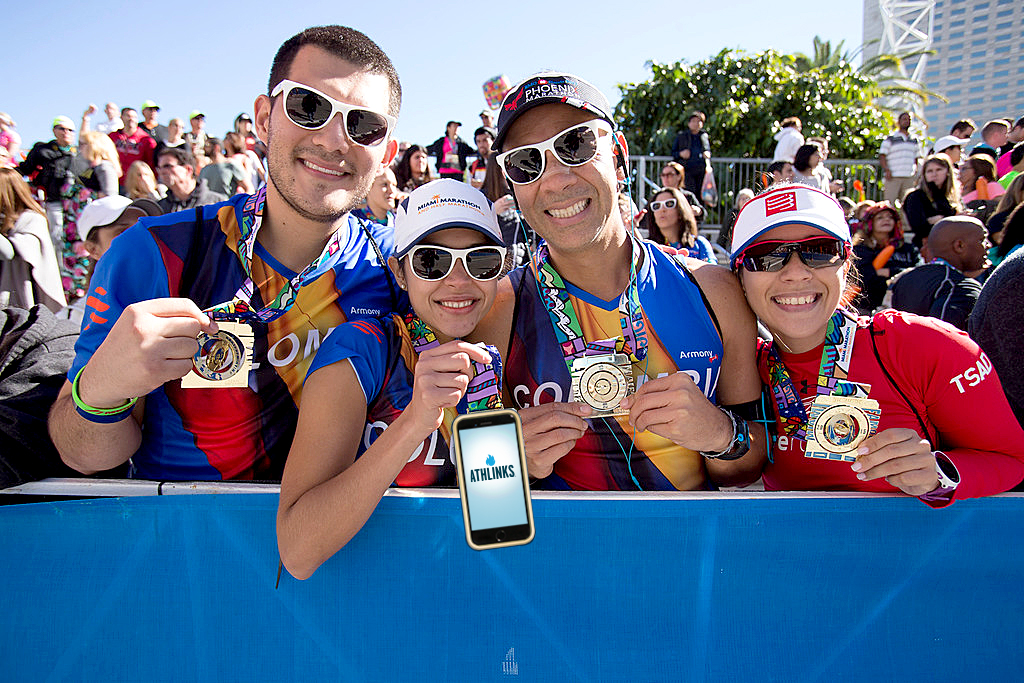 Chip Timing
Featuring the state of the art Chronotrack chip timing system, Chronotrack Live and Athlinks! This is the best in the game!
Chronotrack Live is a next generation race platform providing registration and race management solutions on a live scoring platform delivering real-time online, mobile and social race experiences. Operating on a single platform eliminating data transfers and errors, Chronotrack Live provides registration, paperless on-site registration, electronic check-in, and scoring through to result. Chronotrack Live services include real-time online and mobile results, Facebook & Twitter athlete updates, video finishes, digital photography and more.
Timed using professional race timing software and hardware.
Chip timing system automatically records start and finish times as you cross the start/finish line.
Live results are available throughout the race posted on computer kiosks.
The chips will be supplied by Run To Succeed, but is the responsibility of the race director to distribute along with race bibs.  
We prefer to use one-time use disposable bib tags. If reusable chips are used, they must be collected at the end of the event or a $5 charge will be applied per non returned chip.
.
*  We may occasionally request that a volunteer be provided to assist our timing professionals. A $25 fee will be included with all timing packages if the race director is unable to provide at least one volunteer.
*  Run To Succeed staff will often travel to many of our races we are timing. If your race is considered out of market, we will add a necessary travel fee based on a per mile formula. 
.
If you are interested in Run To Succeed's event timing, please complete and submit the form below.  No payment is required until you agree to the contract. You may also email us at: timing@runtosucceed.com