Meet the RTS Sports (Run To Succeed Race Management and Timing Company) Pro Staff. Interested in joining the Pro Staff? There are multiple way of joining the Pro Staff through employment opportunities and promoting the RTS mission. We aren't looking for the fastest runners or who can run the longest distance.  We simply want people who have a passion for running and/or fitness!
We are constantly in search for team members and race volunteers who can make an impact on the business, the fitness industry and the lives of those who support us!  Contact us at the link: Join the Team for further.  

Pro Staff
Tim Jarvis – President
Tim began making plans in late 2013 to host a race to benefit The Wounded Warrior Project. Those plans eventually evolved into a business dedicated to professional race management and race timing for road races of any distance, trail runs, cross country events, cycling events, triathlons and more.  Thus RTS Sports (Run To Succeed Race Management and Timing Company) was formed.   
Born and raised in small town southern Illinois, Tim grew up hunting, fishing, camping, 4-wheeler riding, farming and just about anything else involving the great outdoors. He is an avid whitetail deer hunter and enjoys turkey and waterfowl hunting when not focused on the elusive whitetail deer. He resides with his family on 10 wooded acres, with a beautiful pond, in southern Illinois. Tim has a passion for fitness and enjoys running, cycling and weight lifting. Tim is a passionate sports fan following the St. Louis Cardinals and St. Louis Blues. Tim is also a student of the French and Indian War and Revolutionary War time periods.  He has authored two books on the subjects. 
Tim has participated in the 80 mile southern Illinois River to River relay in 2014 and 2015.  Being able to complete the race before the cutoff time is a huge accomplishment for the team.
Tim Jarvis also co-owns and operates River To River Outdoors LLC , which incorporates Illinois Bowhunter, Bluegrass Bowhunter and Ground Blind Gear. 
Running Accomplishments  
Little Big Challenge (challenging run, full of hills, around beautiful Lake Murphysboro State Park)      
Multiple 5K's and Trail Runs
Cardinals Care 6K – finishing at home plate inside of Busch Stadium
2014 & 2015 – 80 mile southern Illinois River to River Relay
.
Brian Harrison, MD – Event Timer & Team Advisor
Brian Harrison, MD is a practicing physician in Benton, Illinois specializing in family practice and sports medicine.  Dr. Harrison received his medical degree from the University of Illinois, College of Medicine.  Dr. Harrison resides with his family in Herrin, Illinois.  Dr. Harrison is credited with coming up with the "Run To Succeed" business name.
Dr. Harrison enjoys running as a way to stay fit and has competed in numerous races.  He is by far the most experienced competitive runner on the Run To Succeed staff and he brings that experience with him when it comes to race planning, organizing, and timing.  Run To Succeed definitely would cease to exist if were not for his expert assistance.    
Running Accomplishments
Disney World 20th anniversary marathon (26.2 miles)
Las Vegas half marathon (13.1 miles)
Disney Land half marathon (13.1 miles)
Rock n' Roll Series (Nashville) half marathon
Three other half marathons
80 mile southern Illinois River to River Relay (completed 5 times – most recent in 2017)
Numerous other 5K's, 10K's, 15K's, and Trail Runs
.
Mary Jarvis – Event Coordinator, Event Timer, and Assistant Marketing
Mary@runtosucceed.com
Mary started running in Junior High School as a sprinter. She was not a fan of distance running and only used Cross Country as a training method. However, more recently Mary started a love/hate relationship with distance running.
Mary is a full-time nurse for the past 15 years at Carbondale Memorial Hospital. She resides with her husband Tim, daughter Alayna and son Jacob in Southern Illinois. Alayna has continued the family's passion for running and joined her school's Cross Country team during her first year of eligibility. Mary is part of the Yellow Donkey running group.   
Running Accomplishments
Mary has competed in numerous 5K's & 10K's occasionally winning her age division.
Mary is working towards completing the Run To Succeed 500 Mile Challenge.
.
.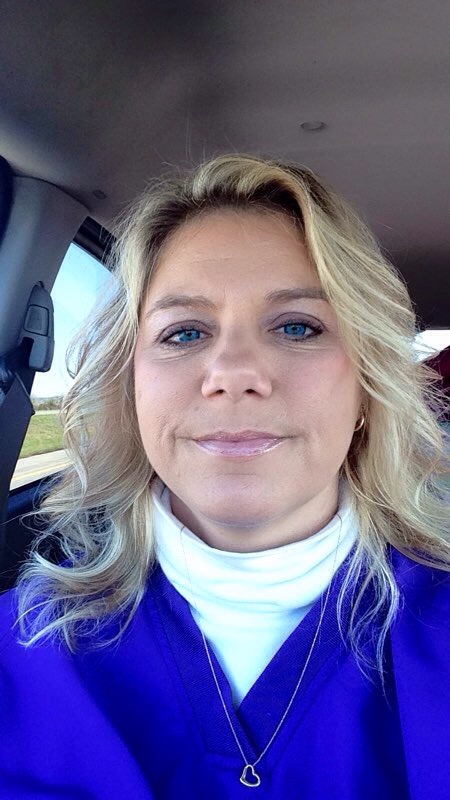 Michelle Pearl – Event Timer & Office Assistant
Michelle@runtosucceed.com
Michelle is a stay at home mother of 2 girls.  She is also a home health care provider.  Michelle is very involved with her daughters and their love for showing cattle. 
She met Tim in 2014 as a participant in the 4 Mile Run For Valor to benefit the Wounded Warrior Project.  Michelle started running in October of 2013 through a Run For God bible study at her church.  She ran her very first 5K race in April 2014 at Purdue University to benefit cancer research.  She enjoys going out on a run.  She has participated in numerous 5K races.  Her favorite was a 10K race sponsored by Run For God benefiting the Amen Center in Delta, MO.  She recently completed her own 1000 mile challenge since her career start in running.  Michelle completed her first half marathon in 2016 at the Shawnee Marathon in Southern Illinois. .
.
Mariah Meece – Event Timer
Mariah@runtosucceed.com
Mariah is a relative newcomer to Southern Illinois, having only lived in the area for the past five years or so. However, this hasn't stopped her from exploring many of its roads on foot through her love of running. She began running in high school, and competed in track at both a regional and an international level. Sidelined by injury in the years following high school, Mariah has only recently been able to reclaim the pastime she cherishes. She attends Southern Illinois University in Carbondale and will graduate in 2017 as a Physical Therapist Assistant. Mariah resides in West Frankfort with her husband and two houseplants. Her next big running goal is to take on the St. Jude Half Marathon as a St. Jude Hero in December 2017.
Running Accomplishments
Mariah has completed a handful of 5Ks, in which she usually wins her age category.
.
.
 .