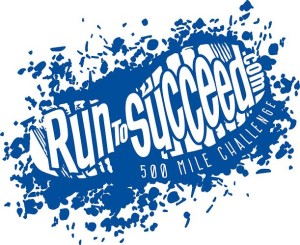 Looking to start off 2015 with a "New Year's Resolution?" Is your goal to become more physically fit in 2015?  If you answered yes to either question then the Run To Succeed 500 Mile Challenge is for you!
The rules are simple. Register for the challenge and log your miles on the Run To Succeed online form each time you complete your run or walk.  Complete 500 miles before December 31st and become a member of our exclusive 500 Mile Challenge club.  The 500 miles can be completed in any manner you wish.  We even allow treadmill miles!  Every 5K, 10K, or Half-Marathon you participate in counts toward your 500 mile goal too.  The Run To Succeed team will email progress updates to you monthly so there is no need for you to keep track of your miles.  We will take care of it for you.
Complete the challenge and you will receive a 500 Mile Challenge shirt. You will also be entered into a random drawing to win $500!