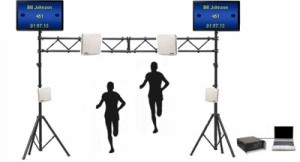 What are your criteria for booking a race timer?  Booking a race timing service can be one of the biggest challenges for a race director, especially the first time race director.  Where do you look?  How much does it cost?  Should I use chip timing?  Are they already booked?  Those are just a few of the many questions I have been asked and hope to answer in this article.
When choosing a race timing company or individual, you certainly want professional service.  Professional service is someone who responds to your emails and phone calls in a timely manner, shows up to the event on time, and acts as a cheerleader as runners cross the finish line.
Most timing companies provide a finish line with their timing service.  This is one less stress a race director needs to worry about.  Whether it's a corral chute or chutes, inflatable finish line, or framed style like pictured, a good timing company will provide the finish line for you.
Is it imperative that the race timing company provide you with a list of electronic results?  I believe so!  If the race director provided the timing company with a list of race registrants prior to the race, then the participants should already be in the database of whichever software system the timer is using.  Adding same day registrants is a small chore.  Providing an electronic version of the results allows the race director to provide those results online via their website or social media page.
A professional race timing company will also stay after the race is completed throughout the award presentation.  In the rare event that a flaw is detected in the timing results, the timer is available to address the situation.  Unfortunately, I have seen this occur and the timer had already made his money and fled.
Race timing services can usually be found through internet searching.  Also, talk to other race directors and find out who they use and if the service was acceptable.  If you've recently ran a 5K, 10K, or other race, pay attention to who times the race and what kind of job they did.  Maybe get a business contact from them during the event.
The cost of race timing varies from event to event and by geographical location.  How busy the company is can also dictate the price charged to the customer.  You want to book a timing company early.  Depending on the size of the company, they may only be able to handle one job per day and others multiple, but 5K event fundraisers have grown in popularity and companies get fully booked early.  Standard clock and bib timing is usually considerably less expensive than chip timing.
As a race director, you have to decide if the additional cost is worth it.  In my experience, chip timing is usually not worth the expense unless you have a large number of finishing runners.  When I say "large," I'm referring to over 200 runners.
Next time you are in the market for race timing services, consider Run To Succeed's event timing.  We are a professional company that will meet all of the needs mentioned here.  RTS currently serves Southern Illinois, Western Kentucky, Southeast Missouri, and beyond.  All of our timing services include a printed list of results on site and an electronic list to be distributed in any manner you wish.  Timing packages start as low as $150.00.  Of course, the finish line is on us!
#RunToSucceed
#RaceTiming