The Big Muddy Run Registration for 2017 is now closed! See ya next time! 
A true mud run with a few obstacles along the way! (FAQ's & Obstacle descriptions listed below the registration link)
The Big Muddy Run will be held along the banks of the Big Muddy River at Wright's Off-Road Mud Park!
Get ready to experience the fun and excitement! We created a course that will be a 5K or less race loaded with mud, water, adventure, fun and excitement! Experience the thrill and excitement and burn off a little stress in the meantime. Here's your chance to bring out your inner child and let loose! 
There will be food vendors including a BBQ stand, beer, musical entertainment, helicopter rides, energy drinks by DaVinci, and other fun post-race activities to be announced!

You will get wet and muddy so come prepared!
Saturday, July 15, 2017
Race Location:
Wright's Off-Road Mud Park
4596 State Highway 149
Royalton, IL 62983
Only 1/2 mile west of the Zeigler 4-way stop
.
Packet Pickup Information:
Registration and packet pick-up will begin at 7:00 a.m.
Please pick up your registration packet at least 30 minutes prior to your wave start time
Race Day Information:
8:00 am – Wave #1
8:10 am – Wave #2
8:20 am – Wave #3
8:30 am – Wave #4
8:40 am – Wave #5
8:50 am – Wave #6
9:00 am – Wave #7
9:10 am – Wave #8
9:20 am – Wave #9
9:30 am – Wave #10
9:40 am – Wave #11
9:50 am – Wave #12
10:00 am – Wave #13
10:10 am – Wave #14
10:20 am – Wave #15
10:30 am – Wave #16
10:40 am – Wave #17
10:50 am – Wave #18
11:00 am – Wave #19
11:10 am – Wave #20
11:20 am – Wave #21
11:30 am – Wave #22
11:40 am – Wave #23
11:50 am – Wave #24
12:00 pm – Wave #25
.
Entry Fees:
Register between 6/09/17 & 6/30/17 – $30
Register between 7/01/17 & 7/14/17 – $35
Same Day Registration Fee: $40 – *Only if not a sold out event!*
VIP Access Fee: $50 (register for any wave time even if it's sold out)
Register as a team for discounted entry!
Spectators are free so bring your friends and family along with you
Registration includes a custom finisher's race medal, race shirt and access to the food vendors, beer, musical entertainment and other fun post-race activities that will be announced! Food and beer may be purchased onsite.
.
Team and Corporate Registration
What could possibly be more fun than participating in the Big Muddy Run? How about participating as a team! Put together a group of family members, friends, co-workers, neighbors or even people you've never met before. Is there truly a more exciting way  to bond with your friends or co-workers and build up a sense of camaraderie than sharing in the thrilling experience of a Mud Run?
VIP Access
The Big Muddy Run offers individuals the chance to register as a VIP. VIP access provides you the ability to run in any wave time you choose even if that wave is previously sold out. VIP Access also gives you a $20 vendor credit (on event day only) at any food vendor or our merchandise tent or booth.
Course Description
We are currently putting together the course for the Big Muddy Run. You can be assured that you will get muddy and wet. We creating some fun obstacles along the way! The mud run will be no longer than a 5K distance or 3.1 Miles and can be any distance shorter.
Charity: The Night's Shield Children's Shelter
The Night's Shield Children's Shelter is a private, non-profit organization that provides twenty-four hour emergency shelter for abused, neglected and/or abandoned children from the entire state.  As a child care institution, licensed by the state of Illinois, we provide a secure, nurturing and home-like setting for the children.  Our hope is to help reduce the current trauma these children are experiencing by providing them with support and nurturing.
A primary goal of The Night's Shield is to keep sibling groups together as often as possible.  Often, children in need of shelter are faced not only with separation from their parents and home, but also from their siblings.  For this reason, The Night's Shield accepts both male and female children from newborn to 18 years of age.   
The children are provided food, clothing, medical care, education, and weekly activities. Along with providing the basic needs, we also strive to provide life-tools that will help in their next foster placement or when they are returned home.  We teach goal setting, decision making and problem solving skills to the children at the shelter. 
Hundreds of children have been helped at the shelter.  Each child is unique in their needs.  They come from different backgrounds with different experiences, but are the same in that they have had to face huge issues at a young age.   Some children want to be hugged while others do not because of past physical or sexual abuse.  Many of their abusers have been someone they know or even a family member.  This along with various foster placements makes most teens unable to trust others easily. 
Many of the children have not regularly attended school, seen a doctor, had healthy meals or brushed their teeth daily.  Their lives have been shattered and their stories are heart wrenching, but their stay at The Nights Shield Children's Shelter, although temporary, will provide them with care that can make a difference now and in the rest of their lives.
Register Now>>

Meet the Obstacles *All are subject to change*
1. Tower of Fun – This inflatable obstacle has been borrowed from our Inflatable Fun Run. This 18 foot double lane slide is perfect for all the competitive spirits looking to build up some energy before the mud obstacles begin.
2. Crawl of Despair – You will crawl through mud for several feet with netting just inches above you before emerging out the other side just to find Crawl of Despair Phase Two waiting on you.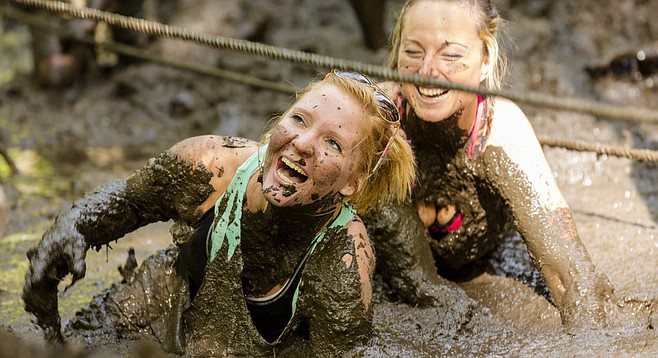 3. The Not So Lazy River – After completing the Crawl of Despair, you immerse yourself into a creek where you will wade through mud and water for a quarter of a mile. You just might lose a shoe – be aware!
4. Monster Truck Hill – After completing the Not So Lazy River, you will exit the creek just to find yourself standing at the base of a steep hill. This hill has claimed many large trucks and it may claim you too! There is a rope anchored down to aid in getting up the hill.
5. Spider Crawl – We are taking precautionary measures to assure everyone's safety with this climbing obstacle. You spider climb up a 12 foot concrete wall using the affixed fencing.
6. The Venomous Mud Spider's Web – In sticking to the spider theme, you will step through, over and around several feet of rope (similar to football drills using tires). Try not to get tripped up and fall – we dare you! You might just become prey to this obstacle.
7. The Final Judgment – You will begin leaping over multiple hay bales while in the thick treacherous mud. Don't worry though, this obstacle will lead you to the finish line where a custom finishers medal and cold drink await your arrival.

.
Big Muddy Run FAQ's
1.) What is the Big Muddy Run?
The Big Muddy Run is a race featuring mud and water obstacles throughout the course. All participants, regardless of age, are welcome to attend. 
2.) What makes the Big Muddy Run different from other mud runs?
The Big Muddy Run has smaller wave sizes to keep participants from being too congested on the obstacles, which we believe creates a better experience for the participant. We also offer plenty of post race entertainment.
3.) What is the entry fee?
There are different fees depending on how early you register as well. It pays to be early!
4.) What do I get with my entry to the Big Muddy Run?
Most importantly – a fun experience! Your entry also includes a custom race medal and custom shirt (the shirt is only guaranteed if you register before the deadline). The event also includes access to food vendors, beer vendors, musical entertainment and more fun activities. This varies from venue to venue.
5.) Is the Big Muddy Run event a 5K?
Not necessarily, but we try to keep it as close to a 5K distance as possible. The event can be of any distance, but nothing more than a 5K. It often depends on the hosting venue.
6.) Is there an age limit on who can participate?
Not really. For safety reasons, we prefer children to be at least 5 years of age. Otherwise, it's wide open for anyone who thinks they can handle the fun! We will make sure we accommodate any age group that wants to participate.
7.) Is this a team event or individual?
The short answer is yes. You may participate as a team, which will also have some fun competition. A team consists of 2 or more participants. We do offer discounted entry to teams.
8.) What happens if there is rain?
The Big Muddy Run will be held rain or shine. You are going to get muddy and wet anyway! We will cancel the event for severe weather when our participants could be placed in danger. The safety of our racers, staff, and spectators is our top concern. Notifications will be sent if the race is delayed or rescheduled. 
9. ) 
You will want to arrive at least 30 minutes before your wave starts. Feel free to arrive even earlier to join in on the fun and visit our merchandise tent/booth.
Yes! We welcome walk-up registrations the day of the event for all waves that are not already sold out. However, we cannot guarantee medals and shirts to same day registrants.
11.) Does Big Muddy Run support charities?
Absolutely! Every Run To Succeed owned event partners with a local charity.
12.) Can I skip an Obstacle if I am not comfortable with it?
Absolutely. If at any time you feel uncomfortable completing any of the obstacles, just walk around it.
13.) If we put together a team, can I pick up race packets for everyone on my team?
You are welcome to pick up packets for your family, friends or corporate teammates.  However, it is imperative that every participant must have signed an event waiver during the registration process in order for the packet to be picked up.  If the waiver was not signed, the packet will not be released.